The Market Is "Too Sober" For Bitcoin to Top At Current $11,500 Level
Latest posts by Crypto Watch
(see all)
Analysts think that the Bitcoin market is "too sober" to top at current price levels.
BTC trades at $11,600 as of this article's writing, perpetuating the consolidation it has been in for the past three weeks.
Why Bitcoin Is Unlikely to Top Here
One cryptocurrency trader thinks that it's unlikely that Bitcoin is forming a macro high here despite the assertions of skeptics. The trader in question pointed to the relatively mild futures market, which suggests that longs are not overleveraged as they were in June of 2019 or earlier this year in February:
"Still think its too sober to be a top. BTC and ETH going sideways with sub 10% annualized futures seems pretty sober to me to be honest, esp considering how high we are trading. If you didnt know, OKEx's BTC weekly futures traded at 1000$ + premiums few times back in 2017."
This trader isn't the only one who doesn't think that Bitcoin is nearing a macro high. As reported by Bitcoinist previously, one analyst noted that per a proprietary indicator he uses, which prints signals above 400 when a macro top is near, the market is likely preparing for another leg higher:
"This indicator is pretty damn good at predicting tops. 200 = warning sign, local top, pullback likely, but doesn't mean rally is over. 400 = market majorly overheated, likely a significant top. anything above 400 = GTFO."
Could A Drop Take Place?
Although Bitcoin may not be forming a macro top at current price levels, that's not to say that a drop is impossible. Analysts say that there's a likelihood BTC reverts to the $10,500 or $9,500 level before returning to the uptrend it has been entrenched in since the middle of May.
One trader recently argued that there's a good likelihood Bitcoin drops towards the $9,000s before moving higher. The reason why he made this assertion was that in previous bull markets, BTC regularly underwent strong retracements of 30-40%, then moved higher on a macro time frame. Pullbacks in the short term do not always invalidate the longer-term trend of an asset.
In the trader's words:
"$BTC #Bitcoin High Time Frame plan: Buy the previous resistance and if that fails buy the daily demand retest (see 2016-2017 corrections)," the analyst wrote in regards to BTC's potential to retest the $9,000s before another leg higher.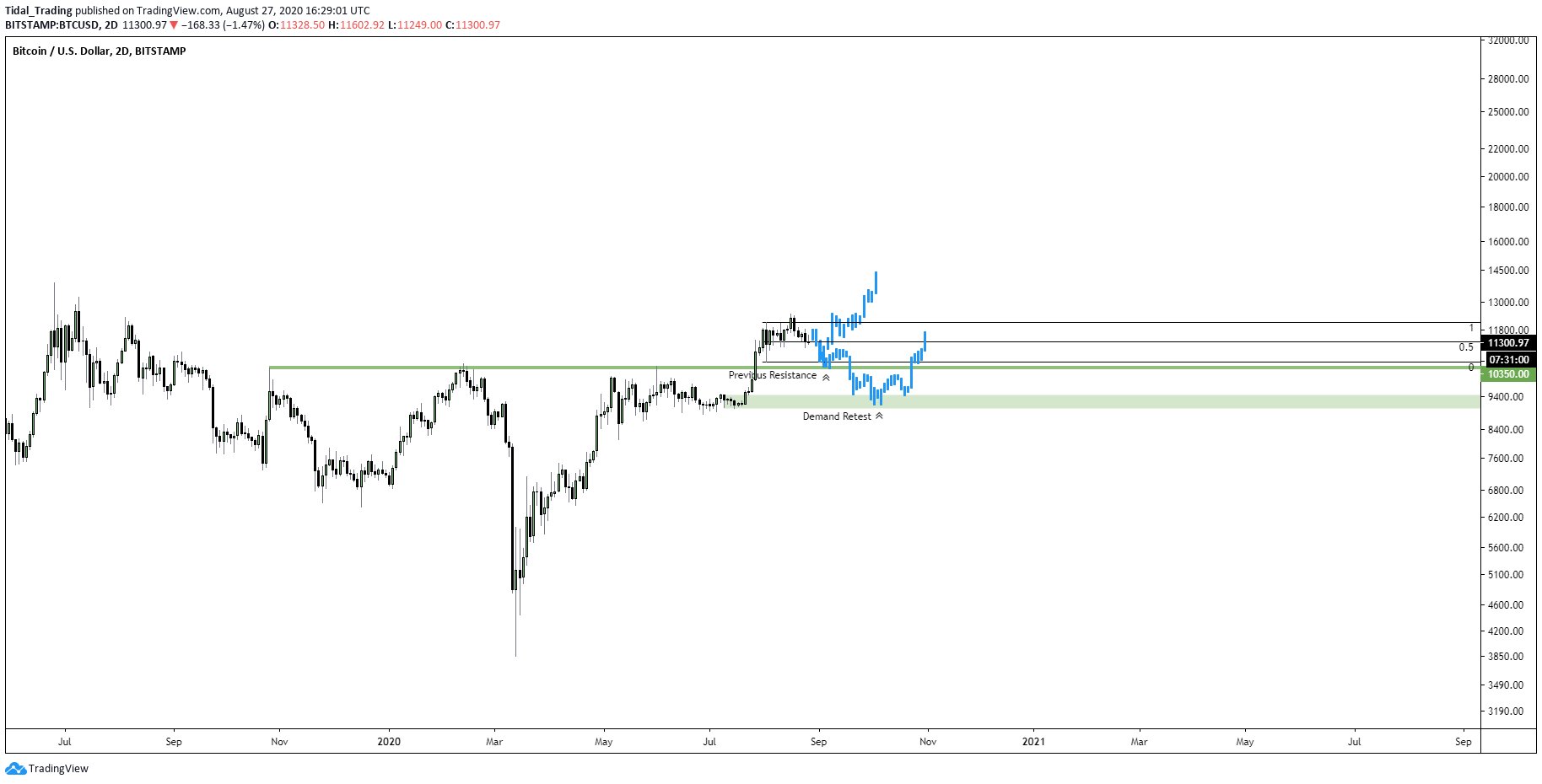 Market pullbacks also ensure that the market is not overextended. When longs are overleveraged, the market is incentivized to liquidate those longs to normalize the market.
In 2021 TradeHost traded 7,937 Betfair UK, IE, US & AU horse racing and greyhound markets.
2022 saw TradeHost become even more profitable with 22,698 Betfair markets traded.
All trades and bets were streamed live on JuiceStorm TV which was was watched by 124,209 traders in 2022.
All results for the 30,635 Betfair markets traded are here and the charts are here.
Top 100 Comments on JuiceStorm.com