Bitcoin Is Holding a Pivotal Macro Level, But Don't Be Bullish Yet
Latest posts by Crypto Watch
(see all)
Bitcoin has entered no man's land as it fails to pass $11,000 but is holding the low-$10,000s.
The coin now trades at $10,900 as of this article's writing, again below the aoforementioned support.
Bitcoin actually may be in a positive spot, though, as it managed to hold a pivotal technical level of macro importance.
Bitcoin Holds Pivotal Macro Support Level
To some market participants, Bitcoin's price action over recent weeks has been purely bearish. After all, falling $2,000 in about the span of 72 hours can't be bullish, can it?
According to a recent Bollinger Bands analysis by a crypto trader, Bitcoin remains in a decent position on a macro time frame.
He shared the chart below, which shows that BTC held the middle Bollinger Band on a weekly time frame on two recent retests. This confirms the level as support. Previous bullish retests led to continued rallies.
Similarly, bearish retests on the underside of that same technical level led to extremely violent rejections, such as the one in March 2020.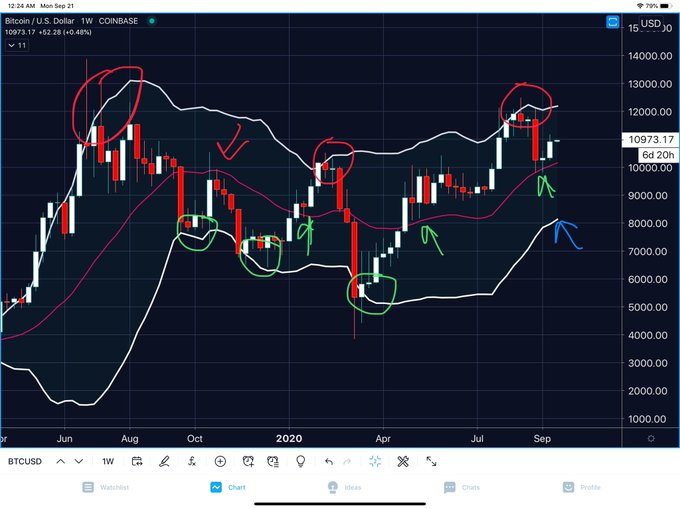 First $11,200, Then $12,000
Analysts are eyeing the $11,200 resistance as a crucial point for bulls to take to confirm it is in a bullish position from a long-term perspective.
One trader shared the chart below just recently, marking out the importance of $11,200 to Bitcoin over recent weeks and over the past year or so:
"Target / Major resistance finally hit, if you worried about price dropping from here and using leverage then close out your position and wait for this level to be flipped support… $11,200 is a key HTF level for flipping it will not be easy."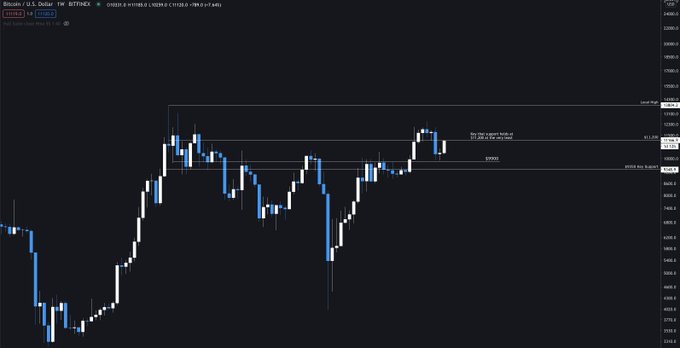 After $11,200, there are some resistances in the high-$11,000s and low-$12,000s that commentators are also eyeing as levels of importance.
Touching on how Bitcoin needs to move above and hold $12,000 to confirm a macro trend shift, an analyst commented:
"Closed-back above resistance. I've been saying I'll close my $12k short if that happens and I'll do so today. We're trading in the middle of nowhere ($11.5k resistance, $10.6k support) so I'm happy taking the win (amplified by the fact I already closed half at $10.3)."
Bitcoin's price action over the coming weeks is likely to be pivotal, especially as it flirts between notable range lows and range highs. Unfortunately crypto investors, macroeconomic and geopolitical factors such as the election and the pandemic could skew Bitcoin's directionality.
In 2021 TradeHost traded 7,937 Betfair UK, IE, US & AU horse racing and greyhound markets.
2022 saw TradeHost become even more profitable with 22,698 Betfair markets traded.
All trades and bets were streamed live on JuiceStorm TV which was was watched by 124,209 traders in 2022.
All results for the 30,635 Betfair markets traded are here and the charts are here.
Top 100 Comments on JuiceStorm.com